How to Grow Your Pet Business Using Instagram Webinar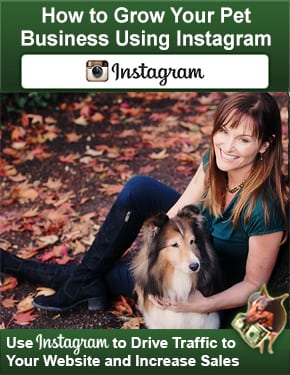 Wednesday, June 7, 2017 at 5:00pm PST / 8:00pm EST
Instagram is one of the most popular sites on social media today!
If you are not taking advantage of the free advertising platform available on Instagram, you are missing out on getting your pet business in front of a large number of pet owners in your area.
Instagram offers you access to a wide range of pet owners, many of whom are in the target demographic for your pet service (most Instagram users are men and women between the age of 30 and 45). When you learn how to use the Instagram social media platform the right way, it can help you to reach a lot of potential clients you would never otherwise connect with on Facebook, Twitter, or any of your other social media accounts.
Instagram Stats:
300 million users are active on Instagram every month
75 million users post on Instagram every day
20% of Internet users use Instagram
27.6% of the U.S. population uses Instagram on a regular basis
Instagram is a highly visual platform. It's based entirely on photographs, images, and short video clips, so you need to tailor your marketing efforts specifically to the Instagram platform.
Overt, "in your face" marketing will NOT succeed on Instagram. People go to Instagram to see pictures and videos, so you need to be clever in your efforts to use the social media platform to reach new clients. This webinar will show you how to market your business easily and effortlessly to the pet owners in your area who are on Instagram.
By attending this webinar you will learn:
How to easily get started with free advertising on Instagram
How to find your way around the Instagram platform so you feel competent and ready to begin advertising to attract your ideal clients
How to format your Instagram bio for maximum results
What type of content to share on Instagram to promote your pet business
How to create "organic" and "native" Instagram images that maximize Instagram interactions with potential clients
Which specific, targeted hashtags to use to increase your Instagram exposure to the pet owners in your area
What types of calls-to-action to include in your Instagram posts to drive large amounts of traffic to your website
How to track your analytics and optimize your content accordingly
Key strategic methods to implement in your Instagram strategy
You will walk away from this webinar with:
A clear picture of how Instagram works and how to create powerful images and free advertising for your pet business
A clear understanding of how to fit Instagram into your existing marketing strategy
Simple, effective techniques to make your Instagram posts perform better than you ever thought possible
Advanced techniques to help you reap even more clients from Instagram
Details and FAQ about the Webinar: How to Grow Your Pet Business Using Instagram
When?
Time: 5:00pm PST / 8:00pm EST
How long is this webinar? 75-90 minutes.
How much: $30
How does class take place? Via webinar. You can access the class via your telephone OR your computer. You'll experience an interactive PowerPoint visual presentation via your computer. You'll learn a lot and have a great time with pet business owners from all over the world who will be attending the webinar. (There will be attendees from Canada, United States, Australia, UK, etc.) You will love it!
Can you send me the recording if I can't attend the live webinar? Absolutely! All attendees will receive a recording of the webinar the day after the webinar date. You'll have 90 days to watch, listen and learn from the webinar recording.
How long do I have to sign up? It's on a first-come, first-serve basis. If you are ready to achieve your pet business marketing goals then why not commit to your business and sign up today?
I can't make it on the particular night that it is currently scheduled. Will you be offering this class on another night? At this time, we aren't currently offering this webinar again on this year's schedule of classes. We'll send an announcement of new classes via our email newsletter or you can check back on the website to see new classes that are posted monthly.
What if I won't be home the night the class is happening? No problem! You can listen from the road or wherever you may be. You don't even have to be in a quiet location because you will be muted during the presentation. Just sign up and email us today to let us know you want the replay link. We are happy to email you the entire webcast within 24 hours after the class. How is that for easy and convenient?
I'm tired of being on the phone. Why should I do this webinar? You can watch, listen and learn from the webinar via your computer if you like instead of listening via your phone. Many of our webinar attendees enjoy learning in their pajamas and from the comfort of their bed or with their feet up while relaxing in their favorite chair. It's up to you!
Is this class for all types of pet business owners? Yes. This webinar is for ALL pet business owners (pet sitters, dog walkers, dog trainers, dog groomers, etc.) who who want gain clients easily and effortlessly from Instagram in order to rapidly grow their pet business.
Okay, this sounds great! How do I sign up? It's easy! Just click the registration button below to sign up.
"I have attended your webinars before and found them beneficial even though we are in our 18th year of pet sitting."
Jay Pattiz
Pampered Pet Sitting
Warrensburg, Missouri
"Thank you so much for sending the webinar link so I can hear the webinar one more time. I really appreciate it. I love these webinars!!! They are so useful and full of nuggets. Truthfully I can't get enough. I recently discovered that I am charging more than the person who trained me. Now that is a true testament to success. I'm sure these webinars have something to do with giving me the confidence to go forward."
Rebecca Goldstone
Owner, Willow Glen Paws Pet Care
San Jose, California
"After taking one of Kristin's webinars and implementing the suggestions she made, I had an immediate response and gained new clients within a week after the teleclass. My phone is ringing and new clients are popping up every day. Thanks, Kristin. You are the best!!"
Kathleen O'Brien
The Irish Sitter Petsitter
Cary, Illinois
"Kristin, you helped me on an SEO coaching session a few months ago. I wanted to let you know that my search engine results on Google got much better for my business website after that SEO coaching session with you.
I'm now listed 4th on the search rankings on page one, right below DogVacay and Yelp for dog walking and my town!"
Kyle Morse
Simply Yours Concierge
South Brunswick, New Jersey
"Thanks to you, I increased my bottom line by almost $20,000 in the last year."
Julie Rogers
Your Pet's Nanny
Ventura, California

"We are going through another growth phase in our business and the information provided in Kristin's Pet Business Webinar was the perfect motivator we needed to help us move past our fears. Thanks Kristin!"
Suzanne Loosbrock & Judy Bryant
Toni Sits Pets, Ltd.
Columbus, Ohio
"I enjoyed the "How to Create a 3-Day Pet Sitting Workweek". It contained great info to help me work smarter."
Christina Walker
Top Dog Pet Sitter
Villa Rica, GA
"I have taken a few of your webinars and they have been very helpful..I purchased your eBook online and I always, always look forward to her monthly newsletters because I always learn something that is helpful for me. Thanks, Kristin."
Susan Howell Owner
Treats Pet Care Service, LLC
Alexandria, Virginia
"Because of your coaching and the Hiring Webinar, Moms4paws.com will become all I dreamed it could be. I'm so grateful that I found you, Kristin."
Jackie See
Moms4Paws Pet Sitting Service
High Point, North Carolina
"The webinar was well worth the money!"
Anne Lesemann
Home Buddies by Camp Bow Wow
Roseville, CA
"Kristin, thank you very much for the How to Make Your Website Sticky webinar. I learned many helpful action steps. I can't wait to put them into practice to increase the chance that visitors who come to my website will become clients."
Josh Perlin
JP's Pet Sitting and Dog Walking Service
Stoughton, MA
"I enjoyed listening to your hiring pet sitters webinar last night and it was worth the money and time spent. I haven't hired yet, but it is time, and you brought up a number of things that I hadn't considered or fully thought through."
Joe Hill
Best Pals Pet Care
Greensburg, PA
"Thank you so much, Kristin! Your hiring webinar gave me the boost I needed to go ahead with these hiring actions. I should have attended it sooner as I wasted some money and lots of time."
Jennifer Taylor
Jen Loves Pets Pet Sitting and Dog Walking Service
San Diego, CA
"Just wanted to let you know I have read your book Six-Figure Pet Sitting and have done a few of your webinars. I don't think my pet sitting business would be where it is without you."
Shannon Emmons
Top Dog Pet Sitting And Dog Walking Service
Fort Worth, Texas
"Kristin, thank you for doing this webinar. I have taken your seminars and purchased your products. Everything you do exceeds my expectations!"
Pat Wrisley
Muttley Crew Pet Sitters
Austin, Texas
"I love your webinars and products. You're awesome! I rely on your webinars and products to help me run my business and balance my life!"
Melissa Marte
Who's Your Doggie, LLC
Milford, Connecticut
"I found you last year mid-way through the Prosperous Pet Business Online Conference, and my business and I have reaped so much benefit from your knowledge and advice through your webinars and website. Thanks to your advice, I took my first real vacation in 7 years and my son and I went to the Grand Canyon in June. I just scheduled it and went for it. My business was waiting for me when I returned. 😉 "
Sandra Lassman
SnR Pet Care
Seattle, Washington
"I enjoy your information & have attended many webinars. I have done very well because of you!"
Tina Brill
Kitty Kompanion
Murphy, North Carolina