2014, 2015 and 2016 Pet Business Conference Video Combination Package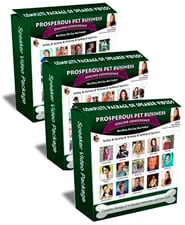 (56 videos delivered immediately to your email for lifetime viewing) $297
(Save $144!)
Want lifetime access to all of the conference videos at a reduced price? This is the combo for you! You'll gain unlimited access to all 56 speakers immediately upon ordering. If you want to make a lot more money and create more ease and freedom in your business from the comfort of your own home, this is the package you'll want to get. Watch as pet business experts share their secrets for success. It's like having a mastermind group right in your own home!
With this Pet Business Conference Video Combination Package you will receive:
2014 Pet Business Conference Videos
2015 Pet Business Conference Videos
2016 Pet Business Conference Videos
These videos will be emailed to you for immediate viewing and listening on your computer or smart phone immediately upon purchase. You can also listen to these video recordings while you are driving to a dog training, pet sitting or dog walking job.
Why wait? Save money and order the Pet Business Conference Video Combination Package to catapult your pet business to success now!
"Kristin, I have just devoured your start up kit for pet sitters and I must tell you it is worth more than you charge!! I will probably be ordering your hiring pet sitters kit soon. Thank you so much!"
Melodee Lucido
Jump Fur Joy!
Bullhead City, Arizona
"My pet care company hit six figures just now, our yearly goal. Thank you for your work! We will easily hit $150,000 this year. 50% more than our goal!
Thank you! Your book helped me make it!!!"
Jennifer Taylor
Jen Loves Pets Pet Sitting Service
San Diego, California
"My partner and I are just starting out with our pet sitting business and we have found Kristin's Business Products for Pet Business Owners to be very useful. Thank you!"
Leah Cronce & Melanie Boggi
Paw Tenders
Waterford, New Jersey
"Thanks to you, I increased my bottom line by almost $20K in the last year."
Julie Rogers
Your Pet's Nanny
Ventura, California

"Do yourself a favor and jump in and UP to a bigger and better business by utilizing Kristin's business coaching services as well as the Business Products and Tools for Pet Business Owners that Kristin provides. In just one year my business has doubled by simply putting Kristin's coaching and business product materials to work for me!"
Brandon Burton
Big Sky Dogs
Pasadena, California
"I frequently have had customers tell me how impressed with my paperwork and how professional I am. I definitely owe this to Kristin's Business Start-up Kit for Pet Sitters. I would strongly recommend the Business Start-up Kit for Pet Sitters and Dog Walkers™ to anyone thinking about starting a pet sitting business."
Patty Toney
Pet Nanny 911
Clarksville, Tennesse
"Hi Kristin, your book "Six-Figure Pet Sitting" has freed me from so much frustration. I have been struggling to figure out the ins & outs of the pet sitting world, and your book guides me step-by-stop without all of the confusing terminology, vague descriptions, and questionable business practices. I am so thankful that you chose to share your experience, as I know many others are as well."
Madison Brown
Love Pet Sitting
College Station, Texas
"I purchased a variety of different pet sitting forms and contracts from Kristin and have also taken part in several of her webinars for pet business owners. Through her business coaching and the purchasing of her business products for pet business owners she has helped me a great deal with improving my pet sitting business!
Karilon Kilpatrick
Loving Hands Pet Sitting
Keystone Heights, Florida
"I purchased your online product, the Business Hiring Kit: For Hiring Pet Sitting/Dog Walking Staff™ and have been very pleased with the content."
Emi Matsumoto
Sniff and Go Dog Walking Services
San Francisco, California
"Hi! Just want to say THANK YOU! Your Pet Sitting Hiring Kit is awesome and I put the AM/PM Pet Visitor ad that was enclosed on Craigslist last night and already have several great candidates. I can't wait to interview!"
Nicole Ryan
Pineapple Pets Pet Sitting & Dog Walking
Melbourne, Florida
"Kristin has gently guided me to get out of my comfort zone and go for goals that would not have believed to be attainable. As a result, my business profit has doubled over the past year."
Pamela Batson
Pam's Pet Sitters
Charlotte, North Carolina
"Kristin, thank you very much for the How to Make Your Website Sticky webinar. I learned many helpful action steps. I can't wait to put them into practice to increase the chance that visitors who come to my website will become clients."
Josh Perlin
JP's Pet Sitting and Dog Walking Service
Stoughton, MA
"I enjoy your information & have attended many webinars. I have done very well because of you!"
Tina Brill
Kitty Kompanion
Murphy, North Carolina