Pet Sitting Employee Handbook (54-Page Handbook)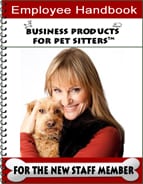 $295
You've asked for an employee handbook and I've listened!
I get it. You are a busy pet sitting business owner and haven't had the time to create an employee handbook. Perhaps you've recently converted your ICs to employees. Perhaps you've needed a handbook for a very long time and it has gone to the bottom of your to do list because it's such an ordeal to create one from scratch. Whatever the reason, you just know you need one.
Creating an employee handbook from scratch is a BEAST to create. I get it. (This one was a beast to create!)
Our handbook is the perfect ready-made template to insert your own business, city and state information and to offer it to your employees.
Unlike most employee handbooks, this one is geared specifically for pet sitters and dog walkers. It was created by a pet sitter and reviewed by an HR team and a lawyer.
Because each city and state differs in terms of employment law we recommend that with the purchase of any employee handbook or legal document that you have a local lawyer review it to see if there's anything that your city or state might require.
This employee handbook contains 54 pages of policies and procedures as well as a lot of necessary information to help your employees do their job in the best possible way and with the least hassle for you. And it comes in Word doc format so it's fully customizable. You can edit it to your heart's content (though we predict you'll be very happy with how thorough this handbook is!)
Here is the Table of Contents:
Contents
---
INTRODUCTION
5
 
Welcome to Our Company!
5
 
Handbook Purpose
5
EMPLOYMENT
7
 
Equal Employment
7
 
Background Checks
8
 
At-Will Notice
8
 
Anniversary Date
8
 
Immigration Law Compliance
8
 
Introductory Period
9
 
Employment Classifications
10
 
Personnel Records
10
 
Employee References
11
 
Job Vacancies
11
 
Job Postings
11
 
Transfers
12
 
Employment of Relatives
12
 
Seniority
12
CONDUCT AND BEHAVIOR
13
 
General Guidelines
13
 
Anti-Harassment
16
 
Anti-Bullying
17
 
Complaint Procedure
19
 
Corrective Action
19
COMPENSATION
21
 
Pay Periods
21
 
Pay Adjustments
21
 
Overtime
22
 
Performance Evaluation
22
 
Promotions
23
 
Demotion
23
 
Work Assignments
23
 
Advances and Loans
23
BENEFITS
24
 
Holidays
24
 
Military Leave
24
 
Paid Leave Law
24
 
Jury Service Leave
25
 
Witness Leave
26
 
Voting Leave
26
HEALTH, SAFETY, AND SECURITY
27
 
Non-Smoking
27
 
Drug and Alcohol
27
 
Safety
28
 
Workers' Compensation
29
 
Workplace Violence and Security
29
WORKPLACE GUIDELINES
31
 
Hours of Work
31
 
Lactation Breaks
31
 
Attendance/ Tardiness
31
 
Personal Appearance
33
 
Confidentiality
33
 
Conflict of Interest
34
 
Outside Activities
35
 
Reporting Irregularities
35
 
Inspections/ Searches
36
 
Electronic Assets Usage
36
 
Social Media
38
 
Company Phone Usage
42
 
Personal Property
42
 
Client Location-Related Procedures
43
 
Initial Consultations
43
 
Pet Care Visits
43
 
Do's and Don'ts of the Pet Sitting / Dog Walking Visit
47
 
Emergency Procedures
50
EMPLOYMENT SEPARATION
51
 
Resignation
51
 
Termination
51
 
Personal Possessions & Return of Company Property
51
MISCELLANEOUS
52
 
Inclement Weather
52
 
Automobile Accident
53
 
Parking
53
ACKNOWLEDGEMENT
54
Order the Pet Sitting Employee Handbook and you can take 'Create Employee Handbook' off your to-do list!
"I just purchased the pet sitting employee handbook and I am so happy with it. This would have cost me a fortune to detail all of this with my expensive employment lawyer. This is at least half the price of what working with my employment lawyer would cost!"
Heather Branch
Best Friends Forever Pet Services, LLC
Encino, California
"Buying Kristin's pet sitting employee handbook was a great business decision. It saved me a ton of time and I am confident that my policies  are in line with what I need to make my pet sitting business successful. I am happy to have a solid foundation of proven policies in place while I take the next step in my business and hire employees."
Kyle H.
Happy Paws Cats and Dogs, LLC
Fort Collins, CO
www.happypawsfoco.com
"I purchased the employee handbook and was very pleased with it.   Kristin stated it was thorough but I found myself saying many times, "Boy, I never thought about that!"  If you don't have an employee handbook, I recommend you purchase this one - why try to write one from scratch?"
Eleanor McCoy
East Paws Pet Services
Fort Lauderdale, Florida
www.eastpawspetservices.com
"Kristin, I have just devoured your start up kit for pet sitters and I must tell you it is worth more than you charge!! I will probably be ordering your hiring pet sitters kit soon. Thank you so much!"
Melodee Lucido
Jump Fur Joy!
Bullhead City, Arizona
"My pet sitting business guru is Kristin Morrison. I HIGHLY recommend all of her books and pet business products. Following her guidance changed my business and my life. Her book, "Six Figure Pet Sitting" has been my bible and has a whole chapter on how to hire staff. I've followed all her instructions and have had exponential success with hiring reliable, smart, attentive, and amazing staff members, several of whom have stayed working for my CPC for almost two and a half years and counting. I also recommend her "Business Hiring Kit: For Hiring Pet Sitting/Dog Walking Staff". The price is well worth the guidance. If anything, just start off by buying her "Six-Figure Pet Sitting" book. It's a pet sitting business owner's GOLD."
Corey Barnes
Colorado Pet Companion
Louisville, Colorado
"My pet care company hit six figures just now, our yearly goal. Thank you for your work! We will easily hit $150,000 this year. 50% more than our goal!
Thank you! Your book helped me make it!!!"
Jennifer Taylor
Jen Loves Pets Pet Sitting Service
San Diego, California
"My partner and I are just starting out with our pet sitting business and we have found Kristin's Business Products for Pet Business Owners to be very useful. Thank you!"
Leah Cronce & Melanie Boggi
Paw Tenders
Waterford, New Jersey
"Thanks to you, I increased my bottom line by almost $20K in the last year."
Julie Rogers
Your Pet's Nanny
Ventura, California

"If you're on the fence about purchasing the Pet Sitting and Dog Walking Hiring Kit, don't hesitate. It's a small price to pay for getting hiring right the first time."
Gina Triay
Tall Tails Pet Sitting, LLC
Slidell, Louisiana
"Do yourself a favor and jump in and UP to a bigger and better business by utilizing Kristin's business coaching services as well as the Business Products and Tools for Pet Business Owners that Kristin provides. In just one year my business has doubled by simply putting Kristin's coaching and business product materials to work for me!"
Brandon Burton
Big Sky Dogs
Pasadena, California
"I frequently have had customers tell me how impressed with my paperwork and how professional I am. I definitely owe this to Kristin's Business Start-up Kit for Pet Sitters. I would strongly recommend the Business Start-up Kit for Pet Sitters and Dog Walkers™ to anyone thinking about starting a pet sitting business."
Patty Toney
Pet Nanny 911
Clarksville, Tennesse
"Hi Kristin, your book "Six-Figure Pet Sitting" has freed me from so much frustration. I have been struggling to figure out the ins & outs of the pet sitting world, and your book guides me step-by-stop without all of the confusing terminology, vague descriptions, and questionable business practices. I am so thankful that you chose to share your experience, as I know many others are as well."
Madison Brown
Love Pet Sitting
College Station, Texas
"I purchased a variety of different pet sitting forms and contracts from Kristin and have also taken part in several of her webinars for pet business owners. Through her business coaching and the purchasing of her business products for pet business owners she has helped me a great deal with improving my pet sitting business!
Karilon Kilpatrick
Loving Hands Pet Sitting
Keystone Heights, Florida
"I purchased your online product, the Business Hiring Kit: For Hiring Pet Sitting/Dog Walking Staff™ and have been very pleased with the content."
Emi Matsumoto
Sniff and Go Dog Walking Services
San Francisco, California
"Hi! Just want to say THANK YOU! Your Pet Sitting Hiring Kit is awesome and I put the AM/PM Pet Visitor ad that was enclosed on Craigslist last night and already have several great candidates. I can't wait to interview!"
Nicole Ryan
Pineapple Pets Pet Sitting & Dog Walking
Melbourne, Florida
"Kristin has gently guided me to get out of my comfort zone and go for goals that would not have believed to be attainable. As a result, my business profit has doubled over the past year."
Pamela Batson
Pam's Pet Sitters
Charlotte, North Carolina
"Kristin, thank you very much for the How to Make Your Website Sticky webinar. I learned many helpful action steps. I can't wait to put them into practice to increase the chance that visitors who come to my website will become clients."
Josh Perlin
JP's Pet Sitting and Dog Walking Service
Stoughton, MA
"I enjoy your information & have attended many webinars. I have done very well because of you!"
Tina Brill
Kitty Kompanion
Murphy, North Carolina