Discover YOUR More Enjoyable (and Profitable) Dog Walking, Pet Sitting or Dog Training Business…
With the CATAPULT! 4-Week Pet Business Success Program
May 4, 2016 — May 25, 2016
Four 90-Minute Sessions on Wednesdays at 5PM Pacific / 8PM Eastern
$347
(Optional Purchase for the Program: $100 Goal Setting/Tracking Online Software–highly recommended!)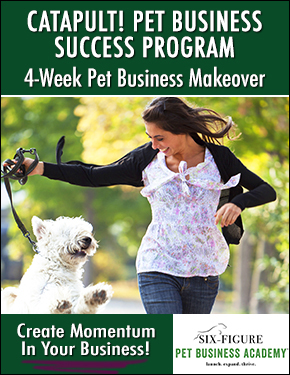 Are you running your pet sitting, dog walking or dog training business… or is your business running you?
Are you spending too much time bogged down in the routine tasks of your pet business… and not enough time actually enjoying what you do?
Do you feel like you deserve to have more ideal clients and make more money (hint: you do deserve it!)… but you're struggling to figure out exactly what's keeping your business from growing with ease?
Running and growing a business feels difficult for many people in the pet industry… and when you're feeling the pressures of trying to attract clients and make your business profitable – it affects your personal life too!
In this 4-week interactive course, you'll discover powerful ways to simplify your pet business, grow your client base, and develop the lifestyle you envisioned when you started your pet business.
Plus… you'll get to share your journey with other pet business owners from around the world… immersing yourself in a community of like-minded entrepreneurs who want to see you succeed!
CATAPULT! 4-Week Pet Business Success Program is the course for you if:
You are struggling to achieve success in your new or long-term pet sitting, dog walking, dog training or doggy day care business
You need to attract more clients to increase your income or you want to have more 'ideal clients'
You're feeling bogged down by all of the big (and pesky little) tasks you take care of in your business every day
You're lost on which marketing strategies will help you most effectively attract your ideal clients and customers
You need to hire staff to help you keep up, but you're feeling challenged with finding the right staff members
You feel disorganized… like you're constantly putting out fires in your business
This is a virtual program that you can attend on your computer and it's designed so YOU CAN PARTICIPATE FROM ANYWHERE IN THE WORLD. And you can even attend from your pet sitting, dog training or doggy day care office!
Think you might need to miss a class? No problem! You can watch, listen and learn from the replay link that will be sent you within 24 hours of each class date  (and you'll have 90 days to watch each class replay). I am committed to making it easy for you to catapult your pet business to the next level.
Get Ready To Catapult: Business Success in Just Four Weeks!

The insights, compassionate support, tips and tools you're getting with this program are nothing short of incredible. Through this training and the powerful pet business community you're tapping into, you'll be able to approach your business with a renewed sense of focus and dedication… empowering you to take your pet business to new heights!
What can you expect to get from joining me and your fellow pet business owners in the CATAPULT 4-Week Pet Business Success Program?
You'll get a wealth of tools, strategies, and advice to help take the stress out of managing your daily business tasks
You'll find out how to organize your business to optimize your time while providing your clients with service they'll be thrilled to tell their friends about
You'll get real-world tips to help you market and grow your business with minimal up-front costs
You'll learn how to find and train the right staff members so that you can scale your pet business
You'll craft your brand so that it draws your ideal clients to you
And much more!
Discover the Meaningful Business and Life You Deserve

Optional (but highly recommended): Before you attend the first group session, you'll have an opportunity to create a powerful 12-Month business and life plan using the Best Year Yet online goal-setting and tracking system which you can purchase below for $100. After creating your plan you'll be better prepared to transform your visions and goals from dreams to reality. (You'll still experience great results from this course without creating your plan however I've found that those participants who create a 12-Month Plan do even better in the course because they have a road map to keep them on track for the whole year.)
When you create your (optional) 12-Month Best Year Yet Plan you'll discover:
Exactly what makes up YOUR Best Year Yet
How your accomplishments and disappointments over the past year have affected you and how to use them as fuel for moving forward
Limiting beliefs and actions that have held you back (so you can quickly overcome them)
Your top 10 goals for the next 12 months
How to create a powerful 12-month plan that inspires and motivates you...and keeps you track
And much, MUCH more!
Then, you'll spend the next four weeks (with support from me and other pet business owners just like you) putting your 12-Month plan into motion… letting go of limiting beliefs, embracing your business visions, and making your Best Year Yet become a reality in your business and your personal life!
Here's What You'll Discover During Each Week of the Catapult! 4-Week Pet Business Success Program:

Week 1: Clarifying Your Vision and Creating a Strong Pet Business Foundation
Create your road map: Discover what you truly want to create in your pet business (and life) and how to best use this course to step powerfully into that vision
Foundation: Find out what and where the weak links are in your pet business and how to strengthen them in order to create a solid and supportive business base and create and cultivate a morning ritual for daily optimal success
Bumps in the Road: Identify what gets you off track, learn how to recalibrate and get moving when you get stuck, and harness the power of weekly and monthly goal setting
Putting it into Practice: Get and receive support from the group, embrace the power of having an 'action buddy', clearly define what it is you want in your business and your life, discover action steps to help you stay on track!
Week 2: Transforming Your Pet Business: Hiring, Delegation and Broad Vision to Create the Pet Business Of Your Dreams
Transforming What's Not Working Into What Is Working: Discover and eliminate the energy drains in your business and your life to motivate and move you in new directions, review service rates and contracts
Hiring for Optimal Success and Releasing Dead Weight: Identify, find and hire your ideal staff members, master how to best work with the 5% of clients and staff who take up 95% of your energy
Vision: Get into action around what really matters and what you really want, transform your 'blah' goals into YES goals to inspire you to move forward, and get the support you need to make changes in your business
Putting it into Practice: Implement action steps for hiring and firing, turn your daily morning practice into a ritual, dive deep with support, connection and more!
Week 3: Tapping Into Empowered Energy in Your Pet Business: Go Get 'Em, Tiger!
Marketing to Get Clients NOW: Discover powerful and inexpensive marketing strategies to attract your ideal clients, create a daily marketing practice (local and online) and track your results
Movement and Clarity: Craft an authentic and congruent brand and harness the power of micro-movements to continue to stay on track with your goals
Relaxation and Fun: Embrace "the more vacations I take, the more money I make" principle, put fun in your schedule, and give yourself pockets of unstructured time to relax and reboot
Putting It Into Practice: Give your attention to motor-revving activities, take the next right micro and macro-movements and leaps, continue to let go of what no longer serves you and your business, use affirmations to align with your subconscious to powerfully move you forward in your business and your life, and more!
Week 4: Taking Your Pet Business (and Life) To the Next Level
Commitment: Discover where you are now in relation to your business and life goals, get into action, and schedule what's still needed in order to get to where you want to go
Movement: Get out of financial vagueness and into clarity and determine where are your money hang ups are, remind yourself of the "why," and learn powerful tips to get you back in action when you are stuck
Revamp and Renew: Identify what most still needs your attention in your business, determine your business 'pain points', let go of control, delegate for optimum ease, and create a "business revamp game plan"
Putting It Into Practice: Go for what you most want, tap into the group for continued support and more!
Ready to Create Momentum In Your Pet Business? Register for the Catapult! 4-Week Pet Business Success Program Now!
Catapult! 4-Week Pet Business Success Program
Your journey to a more profitable, successful business begins here! Sign up for the CATAPULT! Program now and purchase your (optional) Goal-Setting/Tracking Online Software and get ready to make your pet business more rewarding and fulfilling than ever!
STEP ONE:
Purchase CATAPULT 4-Week Pet Business Success Program: $347


---

STEP TWO (Optional But Highly Recommended): 


Purchase Goal-Setting/Tracking Software: $100



Here's What Others Are Saying About the Transformative
CATAPULT! Program…         

"I really enjoyed the Catapult! Pet Business Success Program and learned a lot. Through the homework, networking with other pet sitters and innovative ideas, I have had great results! I have seen an increase in clients- 6 new clients this week alone. It is amazing to me!"

Sarah Johnson / Pampered Pet Care of Atlanta, LLC Pet Sitting and Dog Walking Atlanta, Georgia
www.PamperedPetCare.com
"Some of the best things I achieved from Catapult! Pet Business Success Program were based on the homework that Kristin gave us. Writing down goals for all aspects of my business as well as personal life that have been ruminating in my head for years was very important. I have now been able to set objectives to achieve these goals. Thank you so much, Kristin!"

Janda Ferris / Leash and Biscuit Dog Walking and Pet Sitting
Sierra Madra, California
www.LeashAndBiscuit.com
"I signed up for the Catapult Pet Business Program because I wanted to get inspired in my business. Working alone can cause a feeling of isolation, so I thought joining Catapult would not only give me fresh perspective, but a community of other business owners that understand the struggles of entrepreneurship. I got what I wanted from the Catapult Program plus so much more.

I enjoyed the Catapult Program webinars, and really enjoyed the private Facebook group Catapult conversations! That was an added bonus, in my opinion - everyone was/is very supportive.

I've made more changes than I thought I would as a result of participating in the Catapult Program. I've hired a permanent employee, hired someone to freshen up my branding, I've gotten more organized and am getting a better handle on my business finances.
Thank you for offering this course, Kristin! It was great working with you."

Tomika Bruen / Out for a Walk Pet Sitting and Dog Walking Service
Los Angeles, California
www.OutForAWalk.net
"What I got out of the Catapult Program was clarity and motivation to get my business out of the "stand still" that it seemed to be in.

I'm so glad that you had us get an action buddy to continue to keep in touch with and exchange ideas after the program was over. It is one thing to talk to friends about business ideas, and quite another to talk to another business owner, especially a pet business owner.  I raised my rates for new clients and have an upcoming raise for existing clients.  Major goal setting accomplishment.  Even if I wasn't able to accomplish every action step each week, I definitely have set things that I want/need to accomplish soon.  I have better organization and a strong desire to keep on top of my responsibilities.

You did a great job Kristin.  I always enjoy your webinars. I really liked the 4-week style. 90 minutes per week was just right too. Also, thank you for leaving the replay links available for so long. That definitely helps with a busy schedule."

Nicole Halbur / TLC Pet Sitting, LLC
Lake Havasu City, Arizona
www.MyTLCPetSitting.com
"I wanted to get motivation and some organization on where to start in the Catapult Pet Business Program and I got that and so much more. I loved getting action steps that actually are relevant to the business.  This has energized me and given me a whole new level of excitement and confidence in my business.

I have had much more focus on my pet business and have been working hard on getting things done as opposed to procrastinating.  This has helped me to not procrastinate in life as well.  I am not lazy by any means, but I do have a tendency to procrastinate on tasks that I'm not super excited about or tasks that seem too slow, long and hard to ever get through, (like improving my website).  I now have been trying to just take the time to make forward progress on those things and it's really working.  

I've learned that first thing in the morning (before my son wakes up) is a great time for me to enjoy my coffee and be productive! Thank you, Kristin!  I hope you love what you do because you are so very good at it.  You are an inspiration to many people, including me.  Thanks for helping me begin the road to more success!!!"

Shirley Crane / Dog Silly Suites and Services
Kenvil, New Jersey
www.DogSillySuites.com
"I wasn't exactly sure what to expect as I signed up the day before the first Catapult Pet Business Program class. However, I do need to build a "foundation" for my business and this class has definitely put me on the right track. I got what I wanted and much, much more!!

The Catapult Program was motivating. It is nice to know that other pet business owners are having the same questions and issues as I am or will have. You can learn so much from sharing with other pet business owners and Kristin also shares a lot in the classes which I appreciated. Prior to this class I did not have any business goals on paper and now I have goals for my pet business."

Lisa Marsella/ Sunshine Pet Care, LLC
Reno, Nevada
www.SunshineReno.com
"I got stuck in a rut and I'm now feeling motivated to make changes in my business. I've now set goals for my business.

I enjoyed discussing things with like minded business people in the pet industry. After the Catapult Pet Business Program I am now taking more time for myself and setting boundaries.

I would recommend the Catapult Pet Business Program as I found it to be very motivating and it was also great to communicate with others that are sharing similar experiences within their own pet businesses."

Vivienne Moir / Capital Cats and Canines
Edinburgh, Scotland, UK
www.capitalcatsandcanines.co.uk
"I have a successful pet business now but looking for ways to help grow staff to take on even more clients.  While I am a former Marketing Manager, I was interested to learn new ideas to attract more clients.    

While I was only able to attend one of the Catapult webinars in person, I did enjoy the ability to go back and listen to the other 3 after the fact.

I enjoyed the openness, friendliness and camaraderie of our group.  The willingness to share ideas without fear or negativity.

I placed my first Help Wanted ad on Craigslist!  It was scary at first but now I'm excited!

The Catapult Program provides a great forum for sharing ideas and learning new techniques, helping us get through some of the huge stumbling blocks like hiring employees!

Thank you so much for your support of our efforts to be successful pet business owners!"

Jan McDonnal / Owner, Your Girl Friday
Tracy, California
www.JanYourGirlFriday.com
"I got more structure and balance in my life & business. I also received motivation to move forward and take action on the things that have been holding me back. It was great to get support from business-minded peers who have similar struggles.

I liked that I got access to the recordings because there was so much information that I liked the ability to replay it later.
I am taking the leap forward to start hiring people and letting go of the notion that I have to do everything.

I would absolutely recommend the Catapult Program! There was tons of great info and good people. It's just so great to know that you're not alone, and everyone understands your struggle!"

Zindy Infante / Owner, Fairy Tails
San Antonio, Texas
www.FairyTails.com
"I wanted to learn how to make the SHIFT to working ON my business rather than IN my business and I got that and more by attending the Catapult Pet Business Program.

I was motivated by others that are in the same place I am and by those that have already been there.  It lit a fire under me and gave me so much excitement and pleasure knowing that I'm not alone!!  I LOVED IT!  I got VALUABLE information to begin my hiring process!!

I accomplished so much in the 4-week Catapult Pet Business Program. I have prepared the paperwork for hiring someone including job descriptions, help wanted ads and an employee application.  I have made list after list of the things I need to do and I have been marking them off!!!  As far as life changes…wow…this has opened up a whole new world for me, I'm journaling every morning, I'm thinking of ME more and my family, I'm planning with Best Year Yet software. And I'm getting excited about my future again, I had lost that!!  

I would definitely recommend the Catapult Pet Business Program to other pet business owners.  It's awesome!!

Kristin….you have been a HUGE part of my personal and business growth…and I feel like I have just started.  Just hearing you say the things that I have been feeling has given me HOPE that I will succeed, just knowing you have been there, done that.  Thank you so much for sharing all of your knowledge and giving me a new direction!  You are the BEST!"

Kelly Winn Catlett / Waggs 2 Whiskers
Bagdad, Kentucky
www.Waggs2Whiskers.com
"I attended the 4-Week Catapult Pet Business Program in Fall 2015 and it was the BEST thing I have ever done not only for my business but for myself! I have been in business for 7 years and found myself experiencing extreme burnout with my pet business and having to work 24/7 to keep it running. I was turning away clients and seriously thinking of selling it altogether. I had NO life. The Catapult program changed my life and turned my business around! The best thing that I got from the program was the knowledge that I CAN succeed and make more while working less. That I CAN have a life and a successful business. That the sky is the limit. I brought on new associates and raised my rates thereby giving myself my first raise in 7 years! I started working on the Best Year Yet goal setting program, had a new professional logo designed for my car, developed a marketing kit to actively seek new business and made an appointment with my CPA to discuss the future of my business with the growth I am expecting and will get! All of this and much more while still carving out valuable time for ME!

I most definitely recommend the Catapult Pet Business Program to pet business owners. It was exactly what I needed to renew the love I had for my business when I started this journey and it kick started my efforts to make my business and my life what I dream of. Being a member of a group of professional pet business owners who were struggling with many of the same issues as I struggle with was an amazing perk of this program.  We supported each other with advice and inspiration and I look forward to staying in contact with everyone through the private Facebook page that Kristin created for us. Thank you, Kristin, for sharing your expertise and motivating us to set and pursue both our professional and personal goals and make both all that they can be! Don't wait - sign up for the next Catapult Pet Business Program today - you won't regret it!"

Jennifer Chubb ABCDT / Peace of Mind Personalized Pet Care Solutions
Billerica, Massachusetts
www.peaceofmindpetcare.com
"I really enjoyed meeting every week and hearing all of the information with the Catapult Pet Business Success Program. It was wonderful to be able to interact with other members of the program on the phone as well as within our Facebook group. I made a lot of advancements and am still working on implementing a lot of them. I've worked hard at figuring out the direction I want to go and what has been holding me back. Kristin and Six Figure Pet Business helped me to figure out what those limiting beliefs were. I've started creating a better brand, put out a help wanted ad, created an interview packet, as well as a welcome packet for clients. I had read Kristin's book before I quit my full time job to start this business and found this class to build upon the information given. I was starting to feel stuck in my business as far as where to go next and this class has helped to give me some direction. Throughout the class I purchased a few of Kristin's packets and handbooks - I have found them to be immensely helpful! I wouldn't hesitate to recommend this class to other pet business owners. I know I benefited from it, and the advice can be applied to all pet related businesses. I really enjoyed working with you, Kristin; thank you!"

Melissa Hammond / Owner, Backyards to Barnyards Pet Sitting Services
Sterling, Connecticut
www.backyardstobarnyardspetsitting.com
"I joined the Catapult Program because I was burned out and ready to quit my pet business. I needed support from others in this business.

I really got what I needed. I now have an action buddy and we will continue to help each other, I also have the community we created in the Catapult Facebook group.

I really liked getting reassurance that I'm not alone in my frustrations and challenges.
I have made some changes in my business including having an action plan each day which includes time for fun and business.

I would really recommend the Catapult Program to other pet business owners. This training and support is unique to our business. You can't find this help with general marketing or business education. Also, Kristin has "been there, done that" and can speak with authority from experience. Thank you so much for offering the Catapult Program, Kristin."

Kate Fitzgerald / Fairplay Pet Care
Eagan, Minnesota
www.fairplaypetcare.com
"I joined the 4-Week Catapult Pet Business Program to get motivation to expand my business. I am energized! My Catapult action buddy Kate is the key. I have a network here in Ohio, but I haven't felt like I could share all of my business concerns with that group. I can with Kate and our private Catapult Facebook group. I really enjoyed talking to you and other pet business owners from across the United States who were in the group. I am now setting goals for my business and life. I am using the Best Year Yet goal setting program, and it has been the perfect tool. I would recommend the Catapult Group because I think every business owner needs to confer and learn from other business owners.

Thank you, Kristin! I love your book and I look forward to meeting you when you speak at the Pet Sitters International conference."

Kim Panico / Home Comforts Pet Sitting Service
Dublin, Ohio
www.hcpetsit.com
Lock In Your Spot for the Catapult! 4-Week Pet Business
Success Program Today!
When you reserve your spot right now for this transformative 4-week program, here's what you can expect:
Four weeks of informative, interactive and fun group webinars where you'll learn how to strengthen and simplify your business, attract loyal ideal clients, clarify your vision for your business, delegate tasks, and much more
Weekly action steps and tips to help you get the most out of your pet business while still enjoying your personal life outside of work
Resources, support, and guidance to help you become an empowered pet business owner
Exclusive access to a private Facebook group where you can share stories, ideas, tips, and motivation with other like-minded pet business owners. In this powerful community, you'll receive compassionate support , encouragement, and guidance
Want to Enjoy a New Level of Success with Your Pet Business? Register for the Catapult! 4-Week Pet Business Success Program Now!

Catapult! 4-Week Pet Business Success Program
Your journey to a more profitable, successful business begins here! Sign up for the CATAPULT! Program now and purchase your (optional) Goal-Setting/Tracking Online Software and get ready to make your pet business more rewarding and fulfilling than ever!
STEP ONE:
Purchase CATAPULT 4-Week Pet Business Success Program: $347


---

STEP TWO (Optional But Highly Recommended): 


Purchase Goal-Setting/Tracking Software: $100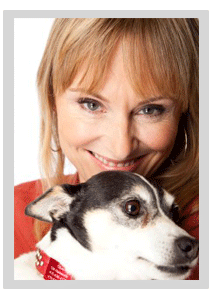 Isn't it time you finally achieved the fulfillment and financial success you deserve from your pet business… without all of the hassles and headaches? If you're ready to say "YES" to success… reserve your spot right away!
I look forward to helping you increase your income, your joy, and your fulfillment in your pet business and your life!